How to produce aluminum ladder by latest riveting technology?
Aluminum ladders are very popular worldwide, because of its features lightweight, durable, and heavy duty. The ladders mainly consist of 3 parts:
Side profiles,
Step rungs,
Accessories include ladder plastic feet, ladder hinges, platform, etc.
The ladder production machine line also consists of 3 steps:
Step 1: Side profiles punching, there are

2 kinds

of the hydraulic punching machine.
How to produce aluminum ladder? Please click following quick link to machine details. Available for different shapes of holes punching, including the square hole, rectangular hole, D shape hole, triangular hole, oval hole, waist circular hole, prismatic hole, etc.
Step 2. Step rungs fastening, there are
3 kinds

of process way in this steps.
The 1st kinds of ladder making procedures. Ladder rungs expanding and flaring machine.
This ladder producing technology is suitable for processing extension ladder, folding ladder, platform ladder, sliding stairs, multi-purpose ladder, combination ladders, loft ladders, industrial ladder, etc.
Ladder Step Rung Expanding Machine is first stepped to fasten the rungs on the aluminum profile by several embossed points from inner of ladder rungs tube.

Ladder Flaring Machine Rung Riveting Machine is second stepped to fasten the ladder rungs on profiles by flaring the rungs from outer of ladder rungs tube.

---
Ladder Squeezing Hydraulic Extruding Machine is a different kind of ladder manufacturing machine, which extruding ladder rungs on aluminum profiles or aluminum channel, without expanding processing and flaring processing, also called as the aluminum ladder rung extruding machine, Rung edge extrusion machine for the ladder, and Ladder squeezing machine.
---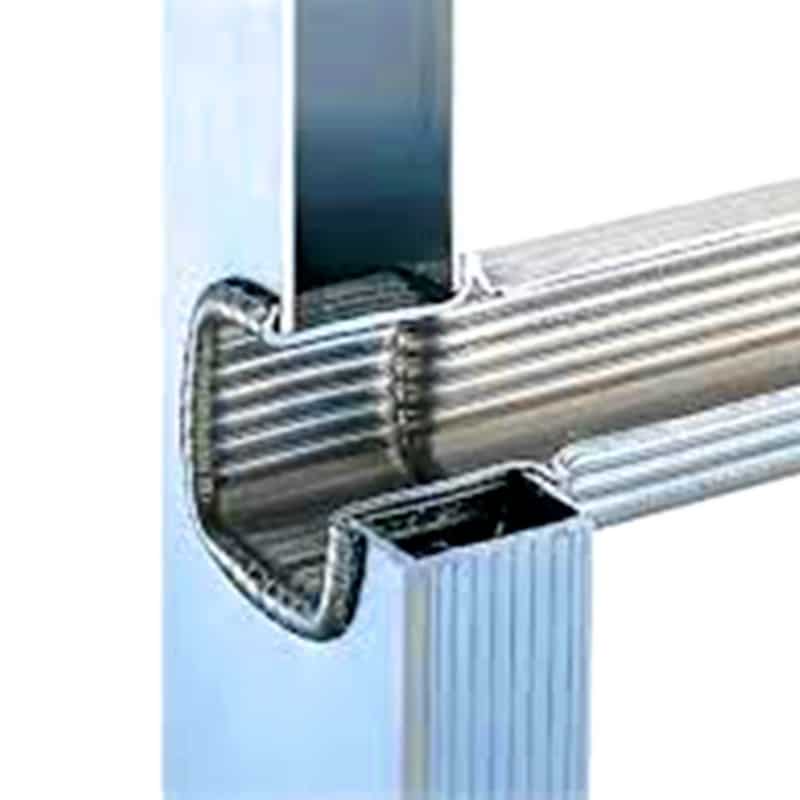 The 3rd kinds of ladder making procedures. Combined 1st and 2nd kinds of processing.
Firstly, Squeezing rungs at first, actually, this kind of ladder making process use squeezing instead of expanding methods.
Secondly, Flaring rungs.
This kind of ladder making way is not much adopted by ladder factory due to lower production and higher machine cost than the 1st and 2nd one.